Back to category

Mud flaps front CITROEN Jumper / PEUGEOT Boxer (with mudguard extension),
£ 32.77
£ 24.58
Incl. VAT
-25%
Material: Elastomer Colour: Black Quantity: 2 Warranty: 2 years Mounting Kit: including
---
Free 30 days span> exchanges

Any part span>, any car

Fast

shipping: 2 days

Expert span> support
Customer service: currently not available
Ask your question at our product specialists.
Questions and answers.

Specifications

Novline Custom Fit Mudflaps are the perfect mud flaps for your car.

100% fit, OEM
2 year warranty
Set of 2 (left right)
Includes mounting material
Sturdy and flexible
Easy installation
Sun and UV resistant
Environmentally friendly

The Novline Mudflaps are measured with a 3D scan and therefore always have a perfect fit. You place them easily and safely on your car. The necessary installation material is included with installation instructions. Would you like help with ordering the right mud flaps for your car? Ask our customer service!

In short an original dealer quality rubber mudflaps for Mud flaps front CITROEN Jumper / PEUGEOT Boxer (with wing arch expander)

---

| | |
| --- | --- |
| Material | Elastomer |
| Colour | Black |
| Quantity | 2 |
| Warranty | 2 years |
| Mounting Kit | Including |
| mounting level | EASY |
| Including | Mounting Kit |

Applicability

CITROEN

| | |
| --- | --- |
| | RELAY Bus |
| | RELAY Bus | 2006.04-??? 2.0 BlueHDi 110 - 1997ccm, 110pk, 81kw - AHM (DW10FUE) |
| | RELAY Bus | 2006.04-??? 2.0 BlueHDi 130 - 1997ccm, 130pk, 96kw - AHN (DW10FUD) |
| | RELAY Bus | 2006.04-??? 2.0 BlueHDi 160 - 1997ccm, 163pk, 120kw - AHP (DW10FUC) |
| | RELAY Bus | 2006.04-??? 2.2 HDi 100 - 2198ccm, 101pk, 74kw - 4HV (P22DTE) |
| | RELAY Bus | 2006.04-??? 2.2 HDi 110 - 2198ccm, 110pk, 81kw - 4HG (P22DTE) |
| | RELAY Bus | 2006.04-??? 2.2 HDi 120 - 2198ccm, 120pk, 88kw - 4HU (P22DTE) |
| | RELAY Bus | 2006.04-??? 2.2 HDi 130 - 2198ccm, 130pk, 96kw - 4HH (P22DTE) |
| | RELAY Bus | 2006.04-??? 2.2 HDi 150 - 2198ccm, 150pk, 110kw - 4HJ (P22DTE) |
| | RELAY Bus | 2006.04-??? 3.0 HDi 155 - 2999ccm, 157pk, 115kw - F1CE0481D (F30DT) |
| | RELAY Bus | 2006.04-??? 3.0 HDi 160 - 2999ccm, 157pk, 116kw - F1CE0481D (F30DT) |
| | RELAY Bus | 2006.04-??? 3.0 HDi 180 - 2999ccm, 177pk, 130kw - F1CE3481E (F30DTE) |

PEUGEOT

| | |
| --- | --- |
| | BOXER Bus |
| | BOXER Bus | 2006.04-??? 2.0 BlueHDi 110 - 1997ccm, 110pk, 81kw - AHM (DW10FUE) |
| | BOXER Bus | 2006.04-??? 2.0 BlueHDi 130 - 1997ccm, 130pk, 96kw - AHN (DW10FUD) |
| | BOXER Bus | 2006.04-??? 2.0 BlueHDi 160 - 1997ccm, 163pk, 120kw - AHP (DW10FUC) |
| | BOXER Bus | 2006.04-??? 2.2 BlueHDi 120 - 2179ccm, 120pk, 88kw - 4HK (DW12RUE) |
| | BOXER Bus | 2006.04-??? 2.2 BlueHDi 140 - 2179ccm, 140pk, 103kw - 4HJ (DW12RUD) |
| | BOXER Bus | 2006.04-??? 2.2 HDi 100 - 2198ccm, 101pk, 74kw - 4HV (P22DTE) |
| | BOXER Bus | 2006.04-??? 2.2 HDi 110 - 2198ccm, 110pk, 81kw - 4HG (P22DTE) |
| | BOXER Bus | 2006.04-??? 2.2 HDi 120 - 2198ccm, 120pk, 88kw - 4HU (P22DTE) |
| | BOXER Bus | 2006.04-??? 2.2 HDi 130 - 2198ccm, 131pk, 96kw - 4HH (P22DTE) |
| | BOXER Bus | 2006.04-??? 2.2 HDi 150 - 2198ccm, 150pk, 110kw - 4HJ (P22DTE) |
| | BOXER Bus | 2006.04-??? 3.0 HDi 145 - 2999ccm, 146pk, 107kw - F1CE3481N (F30DTE) |
| | BOXER Bus | 2006.04-??? 3.0 HDi 160 - 2999ccm, 156pk, 116kw - F1CE0481D (F30DT) |
| | BOXER Bus | 2006.04-??? 3.0 HDi 175 - 2999ccm, 177pk, 130kw - F1CE3481E (F30DTE) |

Manufacturer

Novline Group is one of the largest suppliers of plastic car accessories. Novline designs, manufactures and tests all products at their own homebase and is thus able to deliver customized products for your car at a good price. Novline is famous for its high quality rubber carpets, trunk mats, mudguards and wheelcaps.

Novline also distributes part of its range through the OES and OEM channel. As a result, Novline became part of the original equipment of some vehicles. This underlines the quality of Novline products.

Novline products are characterized by the following:

- Designed to protect your car
- Easy in use
- Very good fit
- Plastic of the carpets is odorless

At the moment we have the following Novline products in our range:

- Rubber carpets ready for use
- The trunk mats are custom fit
- Motor protectors
- Mudships

We deliver most Novline products from our own stock, which usually deliver the products within one day.


Delivery time

Expected delivery date:

24-07-2021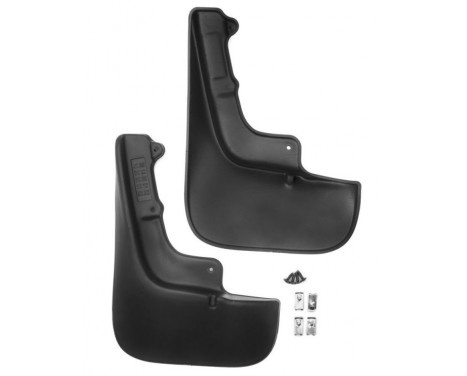 Mud flaps front CITROEN Jumper / PEUGEOT Boxer (with mudguard extension),
£ 24.58