Back to category

Foliatec Caliper paint set - racing rosso - 3 components
Product number: 0544298
Manufacturer number: FT 2160
EAN: 4002581021609
-10%
£ 26.60
£ 23.94
Incl. VAT
Colour: Red Warranty: 2 years Content: Degreaser 400 ml Content: Lacquer hardener
---
Free 30 days span> exchanges

Any part span>, any car

Fast span> delivery

Expert span> support

Specifications

Foliatec Brake caliper paint red

A set of caliper paint gives your car a dynamic and sporty appearance, seals and protects the surface for a long time. An inexpensive way to give your car that extra sporty touch. The set consists of three parts, brake caliper cleaner, paint and hardener. The surface is cleaned and the brake dust is removed with the cleaner. Then part of the paint and hardener can be mixed, after which it can be applied to the caliper with a small brush. After curing, the paint is resistant to temperatures of 300 degrees, corrosion and oil and petrol.

Specifications:

Protection against chemicals and rust.
Long-lasting glossy effect and easy to clean.
Easy to apply with a brush, no need to disassemble the caliper.
The content of one set is sufficient for 4 calipers.
Heat resistant up to 300 ° C.
Drying time (replacing wheels): 2 hours
Drying time (roadworthy): 24 hours
Full curing: +/- 7 days

Content:

400 ml cleaning spray
125 grams of lacquer
50 grams harder
Gloves
1 steel brush
1 paint brush
1 mixing spoon

---

| | |
| --- | --- |
| Colour | Red |
| Warranty | 2 years |
| Content | Degreaser 400 ml |
| application | Lacquer set |
| Including | Gloves |

Manufacturer

Delivery time

Expected shipping date:

Today

Reviews

7

-no further explanation given-

-no further explanation given-

-no further explanation given-

-no further explanation given-

Was very easy to apply and quite enough for 4 calipers. but paint pot dries very quickly after mixing

Perfect delivery, the set is complete, the gloves were allowed to be larger, the paint is beautiful in color, enough to do multiple layers, highly recommended !!!

Perfect result as I had imagined it.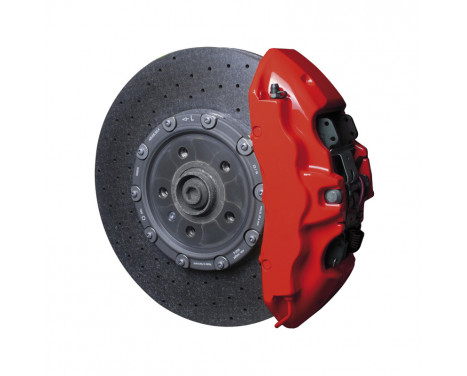 Foliatec Caliper paint set - racing rosso - 3 components
£ 23.94