Back to category

Foliatec Spray Film (Spray Foil) Set - black matt 2x400ml
-5%
£ 44.37
£ 42.15
Incl. VAT
Warranty: 2 years
---
Free 30 days span> exchanges

Any part span>, any car

Fast span> delivery

Expert span> support

Specifications

Foliatec spray film: ideal for moto / car, hobbies and home / garden. An individual look is now easy and fast, not only for car parts such as mirrors and grills. A spray can is sufficient for your moto / bike, or simply a few parts away. Outside furniture or parts of your kitchen can also be easily and quickly transformed. The imagination knows no boundaries anymore! And here is the reason: this spray film can easily be removed again.

Very good deck-strength
High elasticity
Easy to process
Ideal for car, hobby, home and garden

---

Manufacturer

Delivery time

Expected shipping date:

The day after tomorrow

Reviews

3

-no further explanation given-

Superb product. Easy to apply. Do first spray a test piece because on a bad surface it goes completely wrong.

Works as prescribed. Preparation deserves some attention. But the end result may be certain even though it comes from an aerosol can.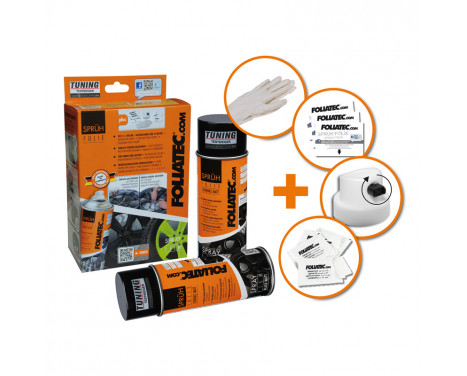 Foliatec Spray Film (Spray Foil) Set - black matt 2x400ml
£ 42.15