Back to category

Ball Joint L29535 Monroe
£ 30.48
£ 21.64
Incl. VAT
-29%
Warranty: 2 years Weight [kg]: 0,500 Required quantity: 1 Number of Holes:
---
Free 30 days span> exchanges

Any part span>, any car

Fast

shipping: 2 days

Expert span> support
Customer service: currently not available
Ask your question at our product specialists.
Questions and answers.

Fit guarantee, show parts suitable for your vehicle.
or .
Specifications

---

| | |
| --- | --- |
| Warranty | 2 years |
| Weight [kg] | 0,500 |
| Required quantity | 1 |
| Number of Holes | 3 |
| Assembly type | Bolted |
| Packaging length [cm] | 13,5 |
| Packaging width [cm] | 9,5 |
| Packaging height [cm] | 7 |

Applicability

AUDI

| | |
| --- | --- |
| | A3 |
| | A3 (8L1) | 1996.09-2003.05 1.6 - 1595ccm, 101pk, 74kw - AEH, AKL, APF |
| | A3 (8L1) | 1996.09-2003.05 1.6 - 1595ccm, 102pk, 75kw - AVU, BFQ |
| | A3 (8L1) | 1996.09-2003.05 1.8 - 1781ccm, 125pk, 92kw - AGN, APG |
| | A3 (8L1) | 1996.09-2003.05 1.8 T - 1781ccm, 150pk, 110kw - AGU, AQA, ARZ, AUM |
| | A3 (8L1) | 1996.09-2003.05 1.8 T - 1781ccm, 180pk, 132kw - AJQ, APP, AUQ, ARY |
| | A3 (8L1) | 1996.09-2003.05 1.8 T quattro - 1781ccm, 150pk, 110kw - AGU, AQA, ARX |
| | A3 (8L1) | 1996.09-2003.05 1.8 T quattro - 1781ccm, 180pk, 132kw - AJQ, ARY |
| | A3 (8L1) | 1996.09-2003.05 1.9 TDI - 1896ccm, 90pk, 66kw - AGR, ALH |
| | A3 (8L1) | 1996.09-2003.05 1.9 TDI - 1896ccm, 110pk, 81kw - AHF, ASV |
| | A3 (8L1) | 1996.09-2003.05 1.9 TDI - 1896ccm, 130pk, 96kw - ASZ |
| | A3 (8L1) | 1996.09-2003.05 1.9 TDI - 1896ccm, 100pk, 74kw - AXR, ATD |
| | A3 (8L1) | 1996.09-2003.05 1.9 TDI quattro - 1896ccm, 130pk, 96kw - ASZ |

SEAT

| | |
| --- | --- |
| | LEON |
| | LEON (1M1) | 1999.11-2006.06 1.4 16V - 1390ccm, 75pk, 55kw - BCA, AHW, APE, AXP |
| | LEON (1M1) | 1999.11-2006.06 1.6 - 1595ccm, 100pk, 74kw - AEH, AKL |
| | LEON (1M1) | 1999.11-2006.06 1.6 - 1595ccm, 102pk, 75kw - BFQ |
| | LEON (1M1) | 1999.11-2006.06 1.6 16 V - 1598ccm, 105pk, 77kw - AUS, AZD, BCB |
| | LEON (1M1) | 1999.11-2006.06 1.8 20V - 1781ccm, 125pk, 92kw - AGN, APG |
| | LEON (1M1) | 1999.11-2006.06 1.8 20V T - 1781ccm, 180pk, 132kw - APP, AUQ |
| | LEON (1M1) | 1999.11-2006.06 1.8 20V T 4 - 1781ccm, 180pk, 132kw - AJQ, ARY |
| | LEON (1M1) | 1999.11-2006.06 1.8 T Cupra R - 1781ccm, 209pk, 154kw - AMK |
| | LEON (1M1) | 1999.11-2006.06 1.8 T Cupra R - 1781ccm, 225pk, 165kw - BAM |
| | LEON (1M1) | 1999.11-2006.06 1.9 SDI - 1896ccm, 68pk, 50kw - AQM |
| | LEON (1M1) | 1999.11-2006.06 1.9 TDI - 1896ccm, 90pk, 66kw - AGR, ALH |
| | LEON (1M1) | 1999.11-2006.06 1.9 TDI - 1896ccm, 110pk, 81kw - AHF, ASV |
| | LEON (1M1) | 1999.11-2006.06 1.9 TDI - 1896ccm, 150pk, 110kw - ARL |
| | LEON (1M1) | 1999.11-2006.06 1.9 TDI - 1896ccm, 130pk, 96kw - ASZ |
| | LEON (1M1) | 1999.11-2006.06 1.9 TDI - 1896ccm, 100pk, 74kw - AXR |
| | LEON (1M1) | 1999.11-2006.06 1.9 TDI Syncro - 1896ccm, 150pk, 110kw - ARL |
| | LEON (1M1) | 1999.11-2006.06 2.8 Cupra 4 - 2792ccm, 204pk, 150kw - AUE, BDE |
| | TOLEDO Mk |
| | TOLEDO Mk II (1M2) | 1998.10-2006.05 1.4 16V - 1390ccm, 75pk, 55kw - BCA, AHW, APE, AXP |
| | TOLEDO Mk II (1M2) | 1998.10-2006.05 1.6 - 1595ccm, 100pk, 74kw - AEH, AKL |
| | TOLEDO Mk II (1M2) | 1998.10-2006.05 1.6 16V - 1598ccm, 105pk, 77kw - AUS, AZD, BCB |
| | TOLEDO Mk II (1M2) | 1998.10-2006.05 1.8 20V - 1781ccm, 125pk, 92kw - AGN, APG |
| | TOLEDO Mk II (1M2) | 1998.10-2006.05 1.8 20VT - 1781ccm, 180pk, 132kw - APP, AUQ, ARY |
| | TOLEDO Mk II (1M2) | 1998.10-2006.05 1.9 TDI - 1896ccm, 90pk, 66kw - AGR, ALH |
| | TOLEDO Mk II (1M2) | 1998.10-2006.05 1.9 TDI - 1896ccm, 110pk, 81kw - AHF, ASV |
| | TOLEDO Mk II (1M2) | 1998.10-2006.05 1.9 TDI - 1896ccm, 150pk, 110kw - ARL |
| | TOLEDO Mk II (1M2) | 1998.10-2006.05 1.9 TDI - 1896ccm, 130pk, 96kw - ASZ |
| | TOLEDO Mk II (1M2) | 1998.10-2006.05 2.3 V5 - 2324ccm, 150pk, 110kw - AGZ |
| | TOLEDO Mk II (1M2) | 1998.10-2006.05 2.3 V5 20V - 2324ccm, 170pk, 125kw - AQN |

SKODA

| | |
| --- | --- |
| | OCTAVIA I |
| | OCTAVIA I (1U2) | 1996.09-2010.12 1.4 - 1397ccm, 60pk, 44kw - AMD |
| | OCTAVIA I (1U2) | 1996.09-2010.12 1.4 16V - 1390ccm, 75pk, 55kw - BCA, AXP |
| | OCTAVIA I (1U2) | 1996.09-2010.12 1.6 - 1598ccm, 75pk, 55kw - AEE |
| | OCTAVIA I (1U2) | 1996.09-2010.12 1.6 - 1595ccm, 101pk, 74kw - AEH, AKL |
| | OCTAVIA I (1U2) | 1996.09-2010.12 1.6 - 1595ccm, 102pk, 75kw - AVU, BFQ |
| | OCTAVIA I (1U2) | 1996.09-2010.12 1.8 - 1781ccm, 125pk, 92kw - AGN |
| | OCTAVIA I (1U2) | 1996.09-2010.12 1.8 T - 1781ccm, 150pk, 110kw - AGU, ARZ, AUM, ARX |
| | OCTAVIA I (1U2) | 1996.09-2010.12 1.8 T 4x4 - 1781ccm, 150pk, 110kw - ARX |
| | OCTAVIA I (1U2) | 1996.09-2010.12 1.9 SDI - 1896ccm, 68pk, 50kw - AGP, AQM |
| | OCTAVIA I (1U2) | 1996.09-2010.12 1.9 TDI - 1896ccm, 90pk, 66kw - AGR, ALH |
| | OCTAVIA I (1U2) | 1996.09-2010.12 1.9 TDI - 1896ccm, 110pk, 81kw - AHF, ASV |
| | OCTAVIA I (1U2) | 1996.09-2010.12 1.9 TDI - 1896ccm, 130pk, 96kw - ASZ |
| | OCTAVIA I (1U2) | 1996.09-2010.12 1.9 TDI - 1896ccm, 100pk, 74kw - AXR |
| | OCTAVIA I (1U2) | 1996.09-2010.12 2.0 - 1984ccm, 116pk, 85kw - AEG, AQY, AZJ, APK, AZH |
| | OCTAVIA I (1U2) | 1996.09-2010.12 RS 1.8 T - 1781ccm, 180pk, 132kw - AUQ |
| | OCTAVIA I Box Body/Estate (1U5) | 2000.08-2010.03 1.9 D - 1896ccm, 68pk, 50kw - AQM |
| | OCTAVIA I Box Body/Estate (1U5) | 2000.08-2010.03 1.9 TDI - 1896ccm, 90pk, 66kw - ALH |
| | OCTAVIA I Combi (1U5) | 1998.07-2010.12 1.4 16V - 1390ccm, 75pk, 55kw - BCA, AXP |
| | OCTAVIA I Combi (1U5) | 1998.07-2010.12 1.6 - 1598ccm, 75pk, 55kw - AEE |
| | OCTAVIA I Combi (1U5) | 1998.07-2010.12 1.6 - 1595ccm, 101pk, 74kw - AEH, AKL |
| | OCTAVIA I Combi (1U5) | 1998.07-2010.12 1.6 - 1595ccm, 102pk, 75kw - AVU, BFQ |
| | OCTAVIA I Combi (1U5) | 1998.07-2010.12 1.8 20V - 1781ccm, 125pk, 92kw - AGN |
| | OCTAVIA I Combi (1U5) | 1998.07-2010.12 1.8 T - 1781ccm, 150pk, 110kw - AGU, ARZ, AUM, ARX |
| | OCTAVIA I Combi (1U5) | 1998.07-2010.12 1.8 T 4x4 - 1781ccm, 150pk, 110kw - ARX |
| | OCTAVIA I Combi (1U5) | 1998.07-2010.12 1.9 SDI - 1896ccm, 68pk, 50kw - AGP, AQM |
| | OCTAVIA I Combi (1U5) | 1998.07-2010.12 1.9 TDI - 1896ccm, 90pk, 66kw - AGR, ALH |
| | OCTAVIA I Combi (1U5) | 1998.07-2010.12 1.9 TDI - 1896ccm, 110pk, 81kw - AHF, ASV |
| | OCTAVIA I Combi (1U5) | 1998.07-2010.12 1.9 TDI - 1896ccm, 130pk, 96kw - ASZ |
| | OCTAVIA I Combi (1U5) | 1998.07-2010.12 1.9 TDI - 1896ccm, 100pk, 74kw - AXR |
| | OCTAVIA I Combi (1U5) | 1998.07-2010.12 1.9 TDI 4x4 - 1896ccm, 90pk, 66kw - AGR |
| | OCTAVIA I Combi (1U5) | 1998.07-2010.12 1.9 TDI 4x4 - 1896ccm, 100pk, 74kw - ATD |
| | OCTAVIA I Combi (1U5) | 1998.07-2010.12 2.0 - 1984ccm, 116pk, 85kw - AEG, AQY, AZJ, APK, AZH |
| | OCTAVIA I Combi (1U5) | 1998.07-2010.12 2.0 4x4 - 1984ccm, 120pk, 88kw - ATF |
| | OCTAVIA I Combi (1U5) | 1998.07-2010.12 2.0 4x4 - 1984ccm, 116pk, 85kw - AZJ, AZH |
| | OCTAVIA I Combi (1U5) | 1998.07-2010.12 RS 1.8 T - 1781ccm, 180pk, 132kw - AUQ |

VOLKSWAGEN

| | |
| --- | --- |
| | BORA |
| | BORA (1J2) | 1998.10-2013.12 1.4 16V - 1390ccm, 75pk, 55kw - BCA, AHW, AKQ, APE, AXP |
| | BORA (1J2) | 1998.10-2013.12 1.6 - 1595ccm, 101pk, 74kw - AEH, AKL, APF |
| | BORA (1J2) | 1998.10-2013.12 1.6 - 1595ccm, 102pk, 75kw - AVU, BFQ |
| | BORA (1J2) | 1998.10-2013.12 1.6 16V - 1598ccm, 105pk, 77kw - ATN, AUS, AZD, BCB |
| | BORA (1J2) | 1998.10-2013.12 1.6 FSI - 1598ccm, 110pk, 81kw - BAD |
| | BORA (1J2) | 1998.10-2013.12 1.8 4motion - 1781ccm, 125pk, 92kw - AGN |
| | BORA (1J2) | 1998.10-2013.12 1.8 T - 1781ccm, 150pk, 110kw - AGU, AUM, ARX |
| | BORA (1J2) | 1998.10-2013.12 1.8 T - 1781ccm, 180pk, 132kw - AUQ |
| | BORA (1J2) | 1998.10-2013.12 1.9 SDI - 1896ccm, 68pk, 50kw - AGP, AQM |
| | BORA (1J2) | 1998.10-2013.12 1.9 TDI - 1896ccm, 90pk, 66kw - AGR, ALH |
| | BORA (1J2) | 1998.10-2013.12 1.9 TDI - 1896ccm, 110pk, 81kw - AHF, ASV |
| | BORA (1J2) | 1998.10-2013.12 1.9 TDI - 1896ccm, 115pk, 85kw - AJM, AUY |
| | BORA (1J2) | 1998.10-2013.12 1.9 TDI - 1896ccm, 150pk, 110kw - ARL |
| | BORA (1J2) | 1998.10-2013.12 1.9 TDI - 1896ccm, 130pk, 96kw - ASZ |
| | BORA (1J2) | 1998.10-2013.12 1.9 TDI - 1896ccm, 101pk, 74kw - AXR, ATD, BEW |
| | BORA (1J2) | 1998.10-2013.12 1.9 TDI 4motion - 1896ccm, 90pk, 66kw - AGR |
| | BORA (1J2) | 1998.10-2013.12 1.9 TDI 4motion - 1896ccm, 115pk, 85kw - AJM, AUY |
| | BORA (1J2) | 1998.10-2013.12 1.9 TDI 4motion - 1896ccm, 150pk, 110kw - ARL |
| | BORA (1J2) | 1998.10-2013.12 1.9 TDI 4motion - 1896ccm, 130pk, 96kw - ASZ |
| | BORA (1J2) | 1998.10-2013.12 1.9 TDI 4motion - 1896ccm, 101pk, 74kw - ATD |
| | BORA (1J2) | 1998.10-2013.12 2.0 - 1984ccm, 115pk, 85kw - AQY, AZJ, APK, AZG, AZH, BBW |
| | BORA (1J2) | 1998.10-2013.12 2.0 4motion - 1984ccm, 115pk, 85kw - AZJ, AZH |
| | BORA (1J2) | 1998.10-2013.12 2.3 V5 - 2324ccm, 150pk, 110kw - AGZ |
| | BORA (1J2) | 1998.10-2013.12 2.3 V5 - 2324ccm, 170pk, 125kw - AQN |
| | BORA (1J2) | 1998.10-2013.12 2.3 V5 4motion - 2324ccm, 150pk, 110kw - AGZ |
| | BORA (1J2) | 1998.10-2013.12 2.3 V5 4motion - 2324ccm, 170pk, 125kw - AQN |
| | BORA (1J2) | 1998.10-2013.12 2.8 V6 4motion - 2792ccm, 204pk, 150kw - AQP, AUE, BDE |
| | BORA Estate |
| | BORA Estate (1J6) | 1999.05-2005.05 1.4 16V - 1390ccm, 75pk, 55kw - BCA, AHW, AXP |
| | BORA Estate (1J6) | 1999.05-2005.05 1.6 - 1595ccm, 100pk, 74kw - AEH, APF |
| | BORA Estate (1J6) | 1999.05-2005.05 1.6 - 1595ccm, 102pk, 75kw - AVU, BFQ |
| | BORA Estate (1J6) | 1999.05-2005.05 1.6 16V - 1598ccm, 105pk, 77kw - ATN, AUS, AZD, BCB |
| | BORA Estate (1J6) | 1999.05-2005.05 1.6 FSI - 1598ccm, 110pk, 81kw - BAD |
| | BORA Estate (1J6) | 1999.05-2005.05 1.8 4motion - 1781ccm, 125pk, 92kw - AGN |
| | BORA Estate (1J6) | 1999.05-2005.05 1.8 T - 1781ccm, 150pk, 110kw - AGU, AUM, ARX |
| | BORA Estate (1J6) | 1999.05-2005.05 1.8 T - 1781ccm, 180pk, 132kw - AUQ |
| | BORA Estate (1J6) | 1999.05-2005.05 1.9 TDI - 1896ccm, 90pk, 66kw - AGR, ALH |
| | BORA Estate (1J6) | 1999.05-2005.05 1.9 TDI - 1896ccm, 110pk, 81kw - AHF, ASV |
| | BORA Estate (1J6) | 1999.05-2005.05 1.9 TDI - 1896ccm, 115pk, 85kw - AJM, AUY |
| | BORA Estate (1J6) | 1999.05-2005.05 1.9 TDI - 1896ccm, 150pk, 110kw - ARL |
| | BORA Estate (1J6) | 1999.05-2005.05 1.9 TDI - 1896ccm, 130pk, 96kw - ASZ |
| | BORA Estate (1J6) | 1999.05-2005.05 1.9 TDI - 1896ccm, 101pk, 74kw - AXR, ATD |
| | BORA Estate (1J6) | 1999.05-2005.05 1.9 TDI 4motion - 1896ccm, 115pk, 85kw - AJM, AUY |
| | BORA Estate (1J6) | 1999.05-2005.05 1.9 TDI 4motion - 1896ccm, 150pk, 110kw - ARL |
| | BORA Estate (1J6) | 1999.05-2005.05 1.9 TDI 4motion - 1896ccm, 130pk, 96kw - ASZ |
| | BORA Estate (1J6) | 1999.05-2005.05 1.9 TDI 4motion - 1896ccm, 101pk, 74kw - ATD |
| | BORA Estate (1J6) | 1999.05-2005.05 2.0 - 1984ccm, 115pk, 85kw - AQY, AZJ, APK, AZH |
| | BORA Estate (1J6) | 1999.05-2005.05 2.0 4motion - 1984ccm, 120pk, 88kw - ATF |
| | BORA Estate (1J6) | 1999.05-2005.05 2.0 4motion - 1984ccm, 115pk, 85kw - AZJ, AZH |
| | BORA Estate (1J6) | 1999.05-2005.05 2.3 V5 - 2324ccm, 150pk, 110kw - AGZ |
| | BORA Estate (1J6) | 1999.05-2005.05 2.3 V5 - 2324ccm, 170pk, 125kw - AQN |
| | BORA Estate (1J6) | 1999.05-2005.05 2.3 V5 4motion - 2324ccm, 150pk, 110kw - AGZ |
| | BORA Estate (1J6) | 1999.05-2005.05 2.3 V5 4motion - 2324ccm, 170pk, 125kw - AQN |
| | BORA Estate (1J6) | 1999.05-2005.05 2.8 V6 4motion - 2792ccm, 204pk, 150kw - AQP, AUE, BDE |
| | GOLF IV |
| | GOLF IV Van (1J1) | 1997.10-2004.05 1.9 SDI - 1896ccm, 68pk, 50kw - AQM |
| | GOLF IV Van (1J1) | 1997.10-2004.05 1.9 TDI - 1896ccm, 90pk, 66kw - AGR |
| | GOLF IV Van (1J1) | 1997.10-2004.05 1.9 TDI - 1896ccm, 110pk, 81kw - AHF |
| | GOLF IV Van (1J1) | 1997.10-2004.05 1.9 TDI - 1896ccm, 130pk, 96kw - ASZ |
| | GOLF IV Van (1J1) | 1997.10-2004.05 1.9 TDI 4motion - 1896ccm, 116pk, 85kw - AUY |
| | GOLF Mk |
| | GOLF Mk IV (1J1) | 1997.08-2005.06 1.4 16V - 1390ccm, 75pk, 55kw - BCA, AHW, AKQ, APE, AXP |
| | GOLF Mk IV (1J1) | 1997.08-2005.06 1.6 - 1595ccm, 100pk, 74kw - AEH, AKL, APF |
| | GOLF Mk IV (1J1) | 1997.08-2005.06 1.6 - 1595ccm, 102pk, 75kw - AVU, BFQ |
| | GOLF Mk IV (1J1) | 1997.08-2005.06 1.6 16V - 1598ccm, 105pk, 77kw - ATN, AUS, AZD, BCB |
| | GOLF Mk IV (1J1) | 1997.08-2005.06 1.6 FSI - 1598ccm, 110pk, 81kw - BAD |
| | GOLF Mk IV (1J1) | 1997.08-2005.06 1.8 - 1781ccm, 125pk, 92kw - AGN |
| | GOLF Mk IV (1J1) | 1997.08-2005.06 1.8 4motion - 1781ccm, 125pk, 92kw - AGN |
| | GOLF Mk IV (1J1) | 1997.08-2005.06 1.8 T - 1781ccm, 150pk, 110kw - AGU, AQA, ARZ, AUM, AWD |
| | GOLF Mk IV (1J1) | 1997.08-2005.06 1.8 T GTI - 1781ccm, 180pk, 132kw - AUQ |
| | GOLF Mk IV (1J1) | 1997.08-2005.06 1.9 SDI - 1896ccm, 68pk, 50kw - AGP, AQM |
| | GOLF Mk IV (1J1) | 1997.08-2005.06 1.9 TDI - 1896ccm, 90pk, 66kw - AGR, ALH |
| | GOLF Mk IV (1J1) | 1997.08-2005.06 1.9 TDI - 1896ccm, 110pk, 81kw - AHF, ASV |
| | GOLF Mk IV (1J1) | 1997.08-2005.06 1.9 TDI - 1896ccm, 115pk, 85kw - AJM, AUY |
| | GOLF Mk IV (1J1) | 1997.08-2005.06 1.9 TDI - 1896ccm, 150pk, 110kw - ARL |
| | GOLF Mk IV (1J1) | 1997.08-2005.06 1.9 TDI - 1896ccm, 130pk, 96kw - ASZ |
| | GOLF Mk IV (1J1) | 1997.08-2005.06 1.9 TDI - 1896ccm, 101pk, 74kw - AXR, ATD |
| | GOLF Mk IV (1J1) | 1997.08-2005.06 1.9 TDI 4motion - 1896ccm, 90pk, 66kw - AGR |
| | GOLF Mk IV (1J1) | 1997.08-2005.06 1.9 TDI 4motion - 1896ccm, 115pk, 85kw - AJM, AUY |
| | GOLF Mk IV (1J1) | 1997.08-2005.06 1.9 TDI 4motion - 1896ccm, 150pk, 110kw - ARL |
| | GOLF Mk IV (1J1) | 1997.08-2005.06 1.9 TDI 4motion - 1896ccm, 130pk, 96kw - ASZ |
| | GOLF Mk IV (1J1) | 1997.08-2005.06 1.9 TDI 4motion - 1896ccm, 101pk, 74kw - ATD |
| | GOLF Mk IV (1J1) | 1997.08-2005.06 2.0 - 1984ccm, 115pk, 85kw - AQY, AZJ, BER, APK, AZG |
| | GOLF Mk IV (1J1) | 1997.08-2005.06 2.0 4motion - 1984ccm, 115pk, 85kw - AZJ, AZH |
| | GOLF Mk IV (1J1) | 1997.08-2005.06 2.3 V5 - 2324ccm, 150pk, 110kw - AGZ |
| | GOLF Mk IV (1J1) | 1997.08-2005.06 2.3 V5 - 2324ccm, 170pk, 125kw - AQN |
| | GOLF Mk IV (1J1) | 1997.08-2005.06 2.3 V5 4motion - 2324ccm, 150pk, 110kw - AGZ |
| | GOLF Mk IV (1J1) | 1997.08-2005.06 2.3 V5 4motion - 2324ccm, 170pk, 125kw - AQN |
| | GOLF Mk IV (1J1) | 1997.08-2005.06 2.8 VR6 4motion - 2792ccm, 204pk, 150kw - AQP, AUE, BDE |
| | GOLF Mk IV Estate (1J5) | 1999.05-2006.06 1.4 16V - 1390ccm, 75pk, 55kw - BCA, AHW, AKQ, APE, AXP |
| | GOLF Mk IV Estate (1J5) | 1999.05-2006.06 1.6 - 1595ccm, 101pk, 74kw - AEH, AKL, APF |
| | GOLF Mk IV Estate (1J5) | 1999.05-2006.06 1.6 - 1595ccm, 102pk, 75kw - AVU, BFQ |
| | GOLF Mk IV Estate (1J5) | 1999.05-2006.06 1.6 16V - 1598ccm, 105pk, 77kw - ATN, AUS, AZD, BCB |
| | GOLF Mk IV Estate (1J5) | 1999.05-2006.06 1.6 FSI - 1598ccm, 110pk, 81kw - BAD |
| | GOLF Mk IV Estate (1J5) | 1999.05-2006.06 1.8 4motion - 1781ccm, 125pk, 92kw - AGN |
| | GOLF Mk IV Estate (1J5) | 1999.05-2006.06 1.8 T - 1781ccm, 150pk, 110kw - AGU, ARZ, AUM |
| | GOLF Mk IV Estate (1J5) | 1999.05-2006.06 1.9 SDI - 1896ccm, 68pk, 50kw - AGP, AQM |
| | GOLF Mk IV Estate (1J5) | 1999.05-2006.06 1.9 TDI - 1896ccm, 90pk, 66kw - AGR, ALH |
| | GOLF Mk IV Estate (1J5) | 1999.05-2006.06 1.9 TDI - 1896ccm, 110pk, 81kw - AHF, ASV |
| | GOLF Mk IV Estate (1J5) | 1999.05-2006.06 1.9 TDI - 1896ccm, 115pk, 85kw - AJM, AUY |
| | GOLF Mk IV Estate (1J5) | 1999.05-2006.06 1.9 TDI - 1896ccm, 150pk, 110kw - ARL |
| | GOLF Mk IV Estate (1J5) | 1999.05-2006.06 1.9 TDI - 1896ccm, 130pk, 96kw - ASZ |
| | GOLF Mk IV Estate (1J5) | 1999.05-2006.06 1.9 TDI - 1896ccm, 101pk, 74kw - AXR, ATD |
| | GOLF Mk IV Estate (1J5) | 1999.05-2006.06 1.9 TDI 4motion - 1896ccm, 90pk, 66kw - AGR |
| | GOLF Mk IV Estate (1J5) | 1999.05-2006.06 1.9 TDI 4motion - 1896ccm, 115pk, 85kw - AJM |
| | GOLF Mk IV Estate (1J5) | 1999.05-2006.06 1.9 TDI 4motion - 1896ccm, 150pk, 110kw - ARL |
| | GOLF Mk IV Estate (1J5) | 1999.05-2006.06 1.9 TDI 4motion - 1896ccm, 130pk, 96kw - ASZ |
| | GOLF Mk IV Estate (1J5) | 1999.05-2006.06 1.9 TDI 4motion - 1896ccm, 101pk, 74kw - ATD |
| | GOLF Mk IV Estate (1J5) | 1999.05-2006.06 2.0 - 1984ccm, 115pk, 85kw - AQY, AZJ, APK |
| | GOLF Mk IV Estate (1J5) | 1999.05-2006.06 2.0 4motion - 1984ccm, 120pk, 88kw - ATF |
| | GOLF Mk IV Estate (1J5) | 1999.05-2006.06 2.0 4motion - 1984ccm, 115pk, 85kw - AZJ, AZH |
| | GOLF Mk IV Estate (1J5) | 1999.05-2006.06 2.0 Bi-Fuel - 1984ccm, 116pk, 85kw - BEH |
| | GOLF Mk IV Estate (1J5) | 1999.05-2006.06 2.3 V5 - 2324ccm, 150pk, 110kw - AGZ |
| | GOLF Mk IV Estate (1J5) | 1999.05-2006.06 2.3 V5 - 2324ccm, 170pk, 125kw - AQN |
| | GOLF Mk IV Estate (1J5) | 1999.05-2006.06 2.3 V5 4motion - 2324ccm, 150pk, 110kw - AGZ |
| | GOLF Mk IV Estate (1J5) | 1999.05-2006.06 2.3 V5 4motion - 2324ccm, 170pk, 125kw - AQN |
| | GOLF Mk IV Estate (1J5) | 1999.05-2006.06 2.8 V6 4motion - 2792ccm, 204pk, 150kw - AQP, AUE, BDE |
| | GOLF VAN |
| | GOLF VAN IV Variant (1J5) | 1999.05-2006.06 1.6 - 1598ccm, 105pk, 77kw - AUS, AZD, BCB |
| | GOLF VAN IV Variant (1J5) | 1999.05-2006.06 1.9 SDI - 1896ccm, 68pk, 50kw - AQM |
| | GOLF VAN IV Variant (1J5) | 1999.05-2006.06 1.9 TDI - 1896ccm, 131pk, 96kw - |
| | GOLF VAN IV Variant (1J5) | 1999.05-2006.06 1.9 TDI - 1896ccm, 90pk, 66kw - AGR, ALH |
| | GOLF VAN IV Variant (1J5) | 1999.05-2006.06 1.9 TDI - 1896ccm, 110pk, 81kw - AHF, ASV |
| | GOLF VAN IV Variant (1J5) | 1999.05-2006.06 1.9 TDI - 1896ccm, 116pk, 85kw - AJM |
| | GOLF VAN IV Variant (1J5) | 1999.05-2006.06 1.9 TDI - 1896ccm, 101pk, 74kw - AXR, ATD |
| | NEW BEETLE |
| | NEW BEETLE (9C1, 1C1) | 1998.01-2010.09 1.4 - 1390ccm, 75pk, 55kw - BCA |
| | NEW BEETLE (9C1, 1C1) | 1998.01-2010.09 1.6 - 1595ccm, 100pk, 74kw - AWH |
| | NEW BEETLE (9C1, 1C1) | 1998.01-2010.09 1.6 - 1595ccm, 102pk, 75kw - AYD, BFS |
| | NEW BEETLE (9C1, 1C1) | 1998.01-2010.09 1.8 T - 1781ccm, 150pk, 110kw - AGU, APH, AVC, AWU, AWV, BKF |
| | NEW BEETLE (9C1, 1C1) | 1998.01-2010.09 1.8 T - 1781ccm, 180pk, 132kw - AWP, BNU |
| | NEW BEETLE (9C1, 1C1) | 1998.01-2010.09 1.9 TDI - 1896ccm, 90pk, 66kw - ALH |
| | NEW BEETLE (9C1, 1C1) | 1998.01-2010.09 1.9 TDI - 1896ccm, 101pk, 74kw - AXR, ATD, BEW |
| | NEW BEETLE (9C1, 1C1) | 1998.01-2010.09 1.9 TDI - 1896ccm, 105pk, 77kw - BSW |
| | NEW BEETLE (9C1, 1C1) | 1998.01-2010.09 2.0 - 1984ccm, 115pk, 85kw - AEG, AQY, AVH, AZJ, BEJ, BER, BHP |
| | NEW BEETLE (9C1, 1C1) | 1998.01-2010.09 2.3 V5 - 2324ccm, 170pk, 125kw - AQN |
| | NEW BEETLE (9C1, 1C1) | 1998.01-2010.09 2.5 - 2480ccm, 150pk, 110kw - BPR, BPS |
| | NEW BEETLE (9C1, 1C1) | 1998.01-2010.09 3.2 RSI 4motion (1C9) - 3188ccm, 224pk, 165kw - AXJ |
| | NEW BEETLE Convertible (1Y7) | 2002.09-2010.10 1.4 - 1390ccm, 75pk, 55kw - BCA |
| | NEW BEETLE Convertible (1Y7) | 2002.09-2010.10 1.6 - 1595ccm, 102pk, 75kw - BFS |
| | NEW BEETLE Convertible (1Y7) | 2002.09-2010.10 1.8 T - 1781ccm, 150pk, 110kw - AWU, AWV, BKF |
| | NEW BEETLE Convertible (1Y7) | 2002.09-2010.10 1.9 TDI - 1896ccm, 100pk, 74kw - AXR |
| | NEW BEETLE Convertible (1Y7) | 2002.09-2010.10 1.9 TDI - 1896ccm, 105pk, 77kw - BSW |
| | NEW BEETLE Convertible (1Y7) | 2002.09-2010.10 2.0 - 1984ccm, 115pk, 85kw - AZJ, BEV, BDC, BGD |
| | NEW BEETLE Convertible (1Y7) | 2002.09-2010.10 2.5 - 2480ccm, 150pk, 110kw - BPR, BPS |

Original part numbers

| | |
| --- | --- |
| 1J0 407 366 A | AUDI |
| 1J0 407 366 B | AUDI |
| 1J0 407 366 C | AUDI |
| 1J0 407 366 D | AUDI |
| 1J0 407 366 H | AUDI |
| 1J0 407 366 A | SEAT |
| 1J0 407 366 B | SEAT |
| 1J0 407 366 C | SEAT |
| 1J0 407 366 D | SEAT |
| 1J0 407 366 H | SEAT |
| 1J0 407 366 A | SKODA |
| 1J0 407 366 B | SKODA |
| 1J0 407 366 C | SKODA |
| 1J0 407 366 D | SKODA |
| 1J0 407 366 H | SKODA |
| 1J0 407 366 A | VW |
| 1J0 407 366 B | VW |
| 1J0 407 366 C | VW |
| 1J0 407 366 D | VW |
| 1J0 407 366 H | VW |
| 1J0407366J | VW |

Manufacturer

Monroe Shocks and Struts, one of the most respected shock absorbers and springs for passenger vehicles. The company, founded in 1916 in the town of Monroe by engineer August F. Meyer, began its production with tire pumps for the very first car owners.

After the company came to Europe in 1964, the company began to focus more on innovations in the automotive industry. This resulted in the first gas-filled shock absorber in 1982 under the name Gas-Matic. In 1999, the Reflex shock absorbers and since 2003 the Quick-Strut range. In order to provide the automotive industry with equivalent replacement shock absorbers for each car, Monroe has been producing the OESpectrum range since 2011. Fully equivalent shock absorbers for all imaginable car models.

Due to Monroe's innovation rank, the car industry quickly adopted new technologies introduced by Monroe. Whether your car is young or old, it's likely that the technique used for shock absorbers and springs is ultimately developed by Monroe. This is exactly why many fitters and service points rely on Monroe shock absorbers and springs.

Monroe products distinguish themselves in the following areas:

- Equipped with the latest original shock absorber technology
- Developed to match the driving profile of the original shock absorbers and springs
- Limited lifetime warranty
- Very good rust-proof coating

At the moment we have the following Monroe products in our range:

- Shock absorbers
- springs
- Connection rubbers

Delivery time

Expected delivery date:

30-04-2021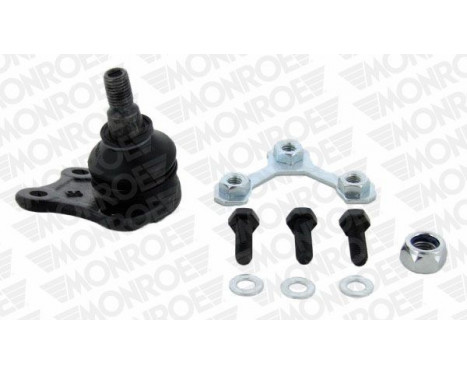 Ball Joint L29535 Monroe
£ 21.64