Back to category

Foliatec Brake caliper paint set - stratos silver metallic - 7 pieces
Product number: 0544309
Manufacturer number: FT 2172
EAN: 4002581021722
---
Free 30 days span> exchanges

Any part span>, any car

Fast

shipping: 2 days

Expert span> support
Specifications

Foliatec Brake caliper paint silver metallic

A set of brake caliper paint gives your car a dynamic and sporty look, seals and protects the surface for a long time. An inexpensive way to give your car that extra sporty touch. The set consists of three parts, brake caliper cleaner, paint and hardener. The cleaner cleans the surface and removes brake dust. Afterwards, some of the paint and hardener can be mixed, after which it can be applied to the caliper with a small brush. After curing, the paint is resistant to temperatures of 300 degrees, corrosion and oil and petrol.

Specifications:

Protection against chemicals and corrosion.
Long-lasting, glossy effect and easy to clean.
Easy to apply with a brush, no need to disassemble the caliper.
The content of one set is sufficient for 4 calipers (2 calipers + 2 drums).
Heat resistant up to 300 ° C.
Drying time (replace wheels): 2 hours
Drying time (roadworthy): 24 hours
Full cure: +/- 7 days

Content:

400 ml cleaning spray
125 grams of lacquer
50 grams harder
Gloves
1 wire brush
1 paintbrush
1 stir stick

Please note: this product contains harmful substances. Consult the PDF with all safety information.

Hazard statements (CLP):
- H222 Extremely flammable aerosol
- H226 Flammable liquid and vapor
- H229 Pressurized container: May burst if heated
- H315 Causes skin irritation
- H317 May cause an allergic skin reaction
- H318 Causes serious eye damage
- H336 May cause drowsiness or dizziness
- H411 Toxic to aquatic life with long lasting effects
- H412 Harmful to aquatic life with long lasting effects

---

| | |
| --- | --- |
| Colour | Metallic |
| Warranty | 2 years |
| Content | Degreaser 400 ml |
| application | Lacquer set |
| Including | Brush |

Manufacturer

Delivery time

Expected delivery date:

22-01-2022

Reviews

4

The silver color has an original look. I completely disassembled the brake calipers and derusted them with a rotating wire brush. Degreasing well is where the supplied brake cleaner comes in handy. Revision kits for the brake calipers are also available on Winparts. With the overhaul and the hard paint, the claws are better than new. The paint does not scratch and damage quickly and remains good for a long time.

Good quality paint in a nice comprehensive kit. Exactly everything you need. Sprayed the claws yourself instead of using the brush. The 2k paint also holds up well in a spray. Nice result in a nice color

Excellent product, good in ease of use. Appearance of calipers is beautiful

Excellent product, easy to process.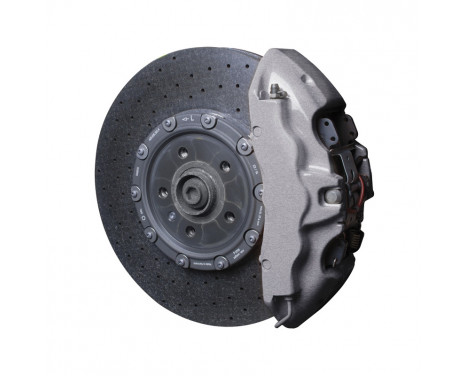 Foliatec Brake caliper paint set - stratos silver metallic - 7 pieces
£ 28.34