Back to category

Door Catch Original VAICO Quality
£ 22.46
£ 22.46
Incl. VAT
Fitting Position: Left and right, both sides Fitting Position: Front Weight [kg]:
---
Free 30 days span> exchanges

Any part span>, any car

Fast

shipping: 2 days

Expert span> support
Customer service: currently not available
Ask your question at our product specialists.
Questions and answers.

Fit guarantee, show parts suitable for your vehicle.
or .
Specifications

---

| | |
| --- | --- |
| Fitting Position | Left and right, both sides |
| Weight [kg] | 0,244 |
| Warranty | 2 years |

Applicability

RENAULT

| | |
| --- | --- |
| | CLIO Mk |
| | CLIO Mk II (BB_, CB_) | 1998.09-??? 1.2 (BB0A, BB0F, BB10, BB1K, BB28, BB2D, BB2H, CB0A,... - 1149ccm, 58pk, 43kw - D7F 710, D7F 720, D7F 722, D7F 726, D7F 746, D7F 764, D7F 766 |
| | CLIO Mk II (BB_, CB_) | 1998.09-??? 1.2 16V (BB05, BB0W, BB11, BB27, BB2T, BB2U, BB2V, CB05,... - 1149ccm, 75pk, 55kw - D4F 728, D4F 706, D4F 712, D4F 714, D4F 722 |
| | CLIO Mk II (BB_, CB_) | 1998.09-??? 1.2 LPG - 1149ccm, 58pk, 43kw - D7F 764, D7F 766 |
| | CLIO Mk II (BB_, CB_) | 1998.09-??? 1.2 LPG (BB0A, CB0A) - 1149ccm, 60pk, 44kw - D7F 722 |
| | CLIO Mk II (BB_, CB_) | 1998.09-??? 1.4 (B/CB0C, B/CB0S) - 1390ccm, 75pk, 55kw - E7J 634, E7J 635, E7J 780, K7J 700 |
| | CLIO Mk II (BB_, CB_) | 1998.09-??? 1.4 16V (B/CB0L) - 1390ccm, 95pk, 70kw - K4J 712, K4J 713 |
| | CLIO Mk II (BB_, CB_) | 1998.09-??? 1.4 16V (B/CB0P, BB13) - 1390ccm, 98pk, 72kw - K4J 712, K4J 713, K4J 710, K4J 711, K4J 715 |
| | CLIO Mk II (BB_, CB_) | 1998.09-??? 1.5 dCi - 1461ccm, 57pk, 42kw - K9K 704 |
| | CLIO Mk II (BB_, CB_) | 1998.09-??? 1.5 dCi - 1461ccm, 100pk, 74kw - K9K 712 |
| | CLIO Mk II (BB_, CB_) | 1998.09-??? 1.5 dCi (B/C2J) - 1461ccm, 68pk, 50kw - K9K 714, K9K 700 |
| | CLIO Mk II (BB_, CB_) | 1998.09-??? 1.5 dCi (B/CB03) - 1461ccm, 80pk, 59kw - K9K 702 |
| | CLIO Mk II (BB_, CB_) | 1998.09-??? 1.5 dCi (B/CB07) - 1461ccm, 65pk, 48kw - K9K 700, K9K 704 |
| | CLIO Mk II (BB_, CB_) | 1998.09-??? 1.5 dCi (B/CB08) - 1461ccm, 82pk, 60kw - K9K 702 |
| | CLIO Mk II (BB_, CB_) | 1998.09-??? 1.5 dCi (B/CB3M) - 1461ccm, 64pk, 47kw - K9K 740 |
| | CLIO Mk II (BB_, CB_) | 1998.09-??? 1.5 dCi (BB3N, CB3N) - 1461ccm, 84pk, 62kw - K9K 718 |
| | CLIO Mk II (BB_, CB_) | 1998.09-??? 1.6 - 1598ccm, 110pk, 81kw - K4M 740, K4M 748 |
| | CLIO Mk II (BB_, CB_) | 1998.09-??? 1.6 (B/CB0D) - 1598ccm, 90pk, 66kw - K7M 744, K7M 745, K7M 746 |
| | CLIO Mk II (BB_, CB_) | 1998.09-??? 1.6 16V (BB01, BB0H, BB0T, BB14, BB1D, BB1R, BB2KL, BB3G... - 1598ccm, 107pk, 79kw - K4M 708, K4M 740, K4M 742, K4M 743, K4M 744, K4M 745, K4M 748 |
| | CLIO Mk II (BB_, CB_) | 1998.09-??? 1.6 Flex - 1598ccm, 110pk, 81kw - K4M 740, K4M 748 |
| | CLIO Mk II (BB_, CB_) | 1998.09-??? 1.9 D (B/CB0E) - 1870ccm, 64pk, 47kw - F8Q 630 |
| | CLIO Mk II (BB_, CB_) | 1998.09-??? 1.9 D (B/CB0J) - 1870ccm, 65pk, 48kw - F8Q 630, F8Q 632 |
| | CLIO Mk II (BB_, CB_) | 1998.09-??? 1.9 dTi (B/CB0U) - 1870ccm, 80pk, 59kw - F9Q 780, F9Q 782 |
| | CLIO Mk II (BB_, CB_) | 1998.09-??? 2.0 16V Sport - 1998ccm, 179pk, 132kw - F4R 738 |
| | CLIO Mk II (BB_, CB_) | 1998.09-??? 2.0 16V Sport (CB0M) - 1998ccm, 169pk, 124kw - F4R 730, F4R 736 |
| | CLIO Mk II (BB_, CB_) | 1998.09-??? 3.0 V6 Sport (CB1A) - 2946ccm, 226pk, 166kw - L7X 760 |
| | CLIO Mk II (BB_, CB_) | 1998.09-??? 3.0 V6 Sport (CB1H, CB1U, CB2S) - 2946ccm, 254pk, 187kw - L7X 762 |

Original part numbers

| | |
| --- | --- |
| 77 00 842 857 | RENAULT |
| 77 00 842 858 | RENAULT |

Manufacturer

The quality brand VAICO has developed into a well-known brand name for engine and transmission parts in the global aftermarket industry in various product groups.




VAICO specializes in replacement kits, for example for the automatic gearbox and crankcase ventilation. Vaico products are known for their high quality, sometimes with smarter solutions than the OEM manufacturer (OEM +).

Delivery time

Expected delivery date:

28-06-2021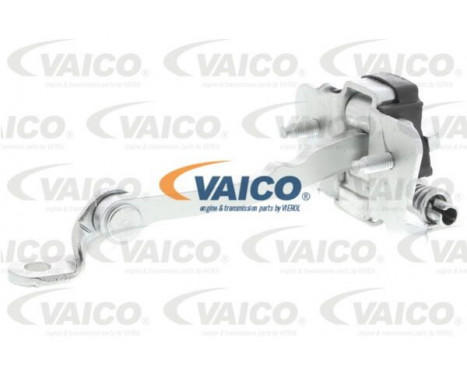 Door Catch Original VAICO Quality
£ 22.46